Are you looking for the best SEO reporting tools?
Search Engine Optimization (SEO) is crucial to every brand's online presence.
But in order to make the most of your SEO efforts, you need to find out what's working, and what isn't.
And using the best SEO reporting tools makes the process much smoother.
Why is that?
Because it will give you a real-time analysis of your site's SEO performance. This is a whole lot easier than manually cross-referencing data points from time to time.
Besides, the best SEO reporting tools can help you create detailed reports that will act as proof of your progress.
And over time, you could even get on the first page of Google.
So, in this post, we have reviewed 16 of the best SEO reporting tools that will give you the best data at your fingertips.
Ready to get started?
You May Also Like:
Disclaimer: This content contains some affiliate links for which we will earn a commission (at no additional cost to you). This is to ensure that we can keep creating free content for you.
Quick Summary: Best SEO Reporting Tools
How We Choose the Best SEO Reporting Tools?
You have to have a clear understanding of your specific business needs and goals to choose the best SEO reporting tools.
We created our list of the best SEO reporting tools based on these factors.
Accuracy and Reliability: You will be able to make informed decisions only if you have accurate and reliable data. The tools on our list provide accurate data and reliable insights so that you can make data-driven decisions.
Customization: Different businesses have different needs and goals. The tools on our list let you customize your reports and dashboards to suit your individual needs.
Reporting: Generating detailed reports is necessary to track the progress of your SEO efforts. The tools on our list generate detailed and comprehensive reports that can be easily shared with team members or clients.
Integration: You may be using several marketing and analytics tools to manage your website. The best SEO reporting tools, like the ones on our list, easily integrate with other tools that you may be using.
Price: The cost of a tool is always a big deciding factor. The tools on our list are priced competitively and offer good value for the features and capabilities they provide.
The 17 Best SEO Reporting Tools in 2023
Google processes over 40,000 search queries every second.
What does that mean for businesses?
Lots of opportunities to show up in front of their target audience.
However, let's not forget that more and more brands are leveraging SEO efforts to grow their online presence. This implies a tough battle for eyeballs.
The solution?
Tracking your SEO performance regularly. This way, you'll know exactly how SEO metrics such as page speed, backlinking, CTR, etc, are faring. This will enable you to make informed decisions about your SEO strategy.
So, invest in any one of the best SEO reporting tools we have listed here, and start improving your rankings.
Here are the best SEO reporting tools, their features, pros, cons, pricing, and more. Keep reading.
1.
Semrush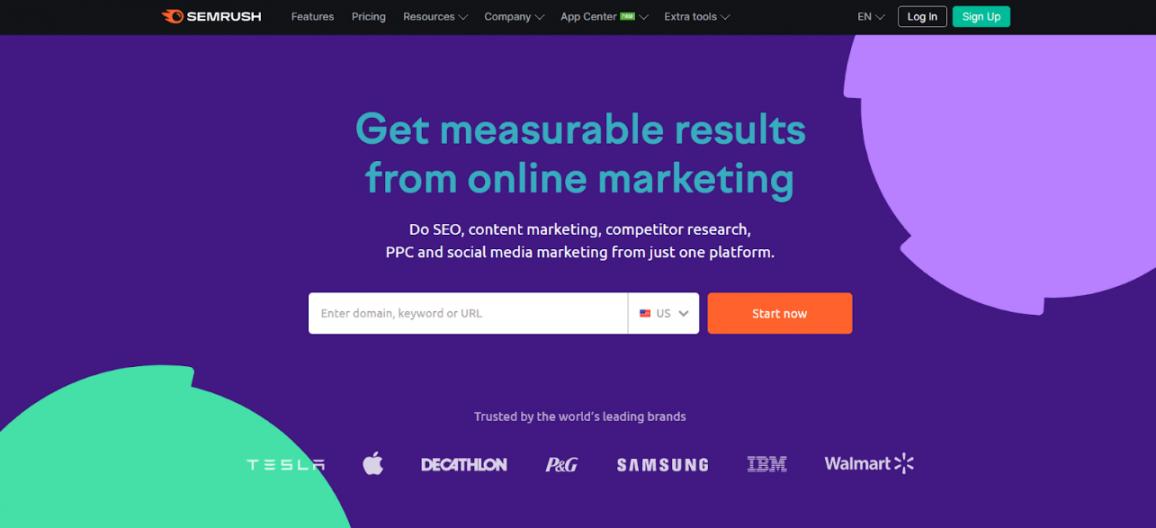 Image via Semrush
Known to most marketers, Semrush is an all-in-one SEO tool. Although widely touted for its keyword research features, it also has the best SEO reporting tools.
Let's take a closer look at everything that Semrush offers.
Features
Monitor competitors' articles, social engagement, backlink count, and daily keyword rankings.
Track the performance of external publications.
Scan your website for over 130 SEO and technical mistakes.
Benchmark your website against competitors and inform your future strategy.
The ability to create visually appealing and customized SEO reports.
The option to white-label your reports.
Pricing
There is a 14-day free trial on offer to check out the tool's features after which you'll need to upgrade to any one of these plans:
Plus $49/month
Prp $99/month
Pro Plus $225/month
Enterprise $450/month
Pro Tips: Use Semrush's Bulk Analysis tool to enter up to 200 URLs or domains at once.